I AM OTTER
I am Otter. Playing joyfully in the River of Life--in the Ocean of Life.
I am Otter. I know that life is serious business, I suppose. But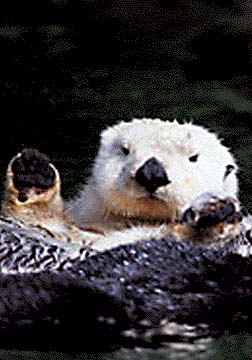 do you have to be serious all the time?
I am Otter. I cannot be bothered to be sad or solemn. Life is too much fun. There's earth to slide down, water to play in, air to dry in, sun to warm in.
I am Otter. Beyond all else, flesh is fun! It offers so many ways to feel--to enjoy.
I am Otter. While you're so busy living, don't forget to play--to have some fun.
I am Otter. Have you forgotten how much you learned through play--through pretending? Pretend you are the energy of Love, and learn to be it.
I am Otter. It's playtime!

Otter lives to play.
Can we remember our own
Childhood fun and games?