I AM SKY
I am Sky. I am everything above you. I am your window on the Universe.
I am Sky. You have placed your best in me. You made me the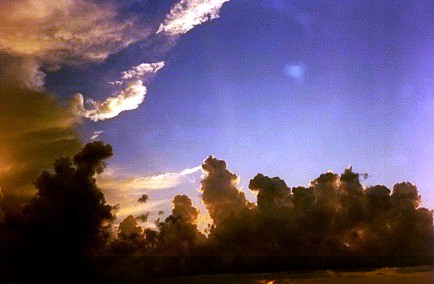 site of your Heaven. For this compliment, I thank you.
But I am Sky, not Heaven. I am the slice of space that holds the things you need to live in flesh. I am very much a part of your existence in flesh.
I am Sky. Although I keep your flesh alive, I am also a portal for your Spirit. The space you need to live could have been opaque. It could have hidden the Truth from you.
But I am Sky. I chose to give you sight--to allow you to see the Universe--to know that you are not alone--to know the depth and height of Love.
I am Sky. I am a fragile space. The Love that holds me in place has been weakened by your fear. But I can be again what I once was. A return to Love is all that is needed.
I am Sky. I am your living, Loving window on the Truth.

Sky is our window.
Can we gaze through her and see
Universal Love?