I AM MONKEY
I am Monkey. First cousin.
I am Monkey. Gaze into my eyes. Hold me. Watch me play. See me learn. Can you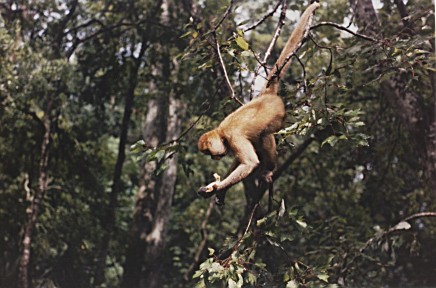 deny our kinship?
I am Monkey. Our relationship extends into the depths of time. Much farther back than your scientists imagine. As with all of life, we were united in the Thought that created the Universe.
I am Monkey. As I chatter away in the treetops, you would not think me an intellectual. But freed from the need to find my food, my energy can move down other paths.
I am Monkey. Our contact has given me a new purpose. It has made me turn back to you. To try to share my understanding.
I am Monkey. We are One. All life is One. But you have lost that understanding. If through our interaction, I can show you one relation, maybe you can sense the rest.
I am Monkey. Accept our kinship. It is Truth. Relating to the rest of life does not denigrate man, it offers a communion--a wholeness--that man has sought throughout the ages.
I am Monkey. How can you possibly think you are alone when I am here to help you?

Monkey is our first
Cousin. Will we accept our
Kinship with all life?