I AM DEER
I am Deer. Bambi's mother. Gentleness with liquid eyes.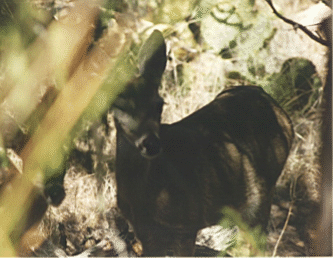 I am Deer. Gently I walk the forest paths. My hoofs touch the Earth lightly, lovingly, caressingly.
I am Deer. The forest glades hold hidden truths--Nature Spirits dance with me, trees and stones both sing with me, grass and pond do nourish me.
I am Deer. The fairy ring calls out to me. Does it also call to you? Come learn the gentle side of nature--the whispering wind through sunlit pine; the cool, clean recesses with shade divine; the knowing laughter of brook and glen.
I am Deer. Follow my tail down forest paths. Follow my spirit to Nature's home. In Her quiet, gentle face, see the Love that is your own.

Deer knows the gentle
Side of nature. Can we find
Gentleness inside?