I AM CAT
I am Cat. Felis domesticus. But not too much. And never too completely.
I am Cat. I balance the energy patterns to keep Earth from spinning apart. If you see me sitting, apparently doing nothing, come closer and feel the energy coming in and going out--and shifting.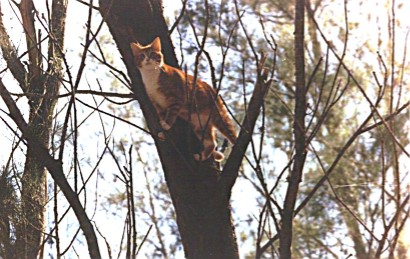 Doing nothing, I am doing everything.
I am Cat. I am grace and balance and all that stuff. I am a princess, a little ball of innocence. And you think that's the important part. But that's just the outward appearance--the mask--the play. My outward beauty is my entryway.
I am Cat. I have been revered and reviled--loved and slaughtered. Bad luck. Familiar. Sacrifice. I am called to places where energy is out of sync. I am the balancer--the tightrope walker. I pull Earth's energy together.
I am Cat. Sitting in a sunny spot. Playing with a feather. Sleeping in your favorite chair. I balance all the energy and hold the Earth together.

Cat balances Earth's
Energy patterns. Can we
Leave them in balance?