I AM STARFISH
I am Starfish. My form reminds you of the sky, although I live under water. I chose my form for that reason.
I am Starfish. You think of me as a lowly form of life. But I have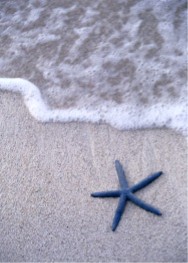 one ability that has always fascinated you--I can regenerate a lost limb.
I am Starfish. Without doctors or hospitals or pills, I regrow what was destroyed. My lesson is so clear, but you ignore it.
I am Starfish. Healing comes only from within--it cannot be imposed from outside. Whether the wound or disease be of the mind, the emotions, or the Spirit, it cannot be healed unless you will it.
I am Starfish. The wounds and diseases we bear in the flesh are our choices. I know this is a hard lesson for you, but each draws to itself its pain as well as its joy.
I am Starfish. Pain is a chance to grow--to learn--to transcend. Pain is chosen. Pain is never unrelated.
I am Starfish. My lesson is one of healing and of growth. Pain shows the problem. It is also your choice whether or not to let go of the pain and to truly heal.
I am Starfish. I chose my form to remind you that by opening yourself to healing, you are choosing to return to the stars.

Starfish shows the way
To healing. Can we accept
The gift of true health?