I AM GIRAFFE
I am Giraffe. The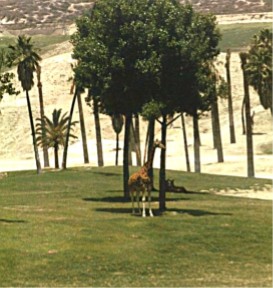 far-seeing. The fore-seeing. The one who sees the future.
I am Giraffe. The plains of life are long and flat for those that have sight. The future is just beyond the vision of those that do not.
I am Giraffe. I see along the long, flat plains. I know what is just beyond your sight.
I am Giraffe. I know the future is the past and present. Time is meaningless. Everything is part of "now."
I am Giraffe. To see the future is to know the meaninglessness of time. Control is in the present. What the future holds is determined today. Your future is your choice.
I am Giraffe. I see the future. The future is your choice today. Trust in yourself--your spirit. Choose. And make your future.

Giraffe sees over
The horizon. Can we learn
To know our future?